Six States Partnering Again for Traffic Safety
Using your seat belt and 'Staying Alive on 75'
TALLAHASSEE, Fla. – The Fl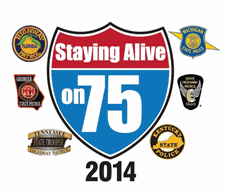 orida Highway Patrol is collaborating with five other states for the third phase of "Staying Alive on I-75" in an effort to bring awareness to the importance of seat belts and keeping Interstate 75 safe and fatality-free. This safety awareness campaign runs today through Sunday and will combine the efforts of state police in Florida, Georgia, Tennessee, Kentucky, Ohio and Michigan.
"The bottom line is seat belts save lives and in my 30 years of law enforcement, I have seen many lives saved because of them," said Col. David Brierton, director of the Florida Highway Patrol. "In 2012, seat belts saved more than 12,000 lives nationwide. So, for your safety and for the safety of your children, buckle up every time you get in a vehicle."
In addition, troopers will be checking for distracted driving, aggressive driving, improper lane changes and commercial vehicle safety.
Some important things to remember while traveling:
•Buckle Up. A seatbelt is your vehicle's most important safety feature.
•Florida law requires the use of seat belts by motor vehicle drivers, all passengers in the front seat, and all children under the age of 18 riding in a vehicle.
•Effective January 1, 2015, a booster seat, a car seat, or an integrated child seat will be required for children who are 4 and 5 years of age (current law requires 4-5 year olds to be seat belted). To help those who can't afford car seats, the Highway Safety Operating Trust Fund provides car seats for those in need. Motorists can donate $2 to the fund when they register their vehicles.
•Use a car seat for children age 3 and under for every trip, even if you are just going down the street.
•Make sure all car and booster seats you use are crash-tested and federally approved.
•Select a car seat based on your child's age and size, and always follow the installation instructions from the manufacturer and those in your vehicle manual.
•Keep children in the back seat, at least through age 12. When used with seat belts, air bags work well to protect teenagers and adults. However, air bags can be very dangerous to children.
•Soon-to-be parents should buy and install their infant car seat before their child is born.
•Replace a car seat if the vehicle has been in a moderate to severe crash to ensure a continued high level of protection.
FHP reminds motorists that they can report an aggressive or impaired driver, or request roadside assistance at any time, by dialing *FHP (*347) from their cell phone.
The Florida Department of Highway Safety and Motor Vehicles provides highway safety and security through excellence in service, education and enforcement. The Department is leading the way to a safer Florida through the efficient and professional execution of its core mission: the issuance of driver licenses, vehicle tags and titles and operation of the Florida Highway Patrol.  To learn more about DHSMV and the services offered, visit www.flhsmv.gov, follow us on Twitter @FLHSMV or find us on Facebook.