'Staying Alive On I-75'
Law enforcement in six states to focus on the Move Over law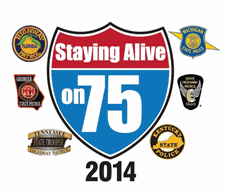 TALLAHASSEE, Fla. – The Florida Highway Patrol will join law enforcement agencies in five other states over the next three days to promote the Move Over law along Interstate 75, as well as other safety measures.  It's part of the ongoing "Staying Alive on I-75" safety campaign that was first launched in March. All six states that I-75 runs through (Florida, Georgia, Tennessee, Kentucky, Ohio and Michigan) will be participating in an intensified enforcement effort focusing on the Move Over law. The multi-state campaign comes as Florida wraps up its "Move Over – Slow Down – Save a Life" month, which has focused on educating the public about the Move Over law and the threat that ignoring it can pose to first responders.
"This six state law enforcement effort is aimed at saving lives along one of our nation's busiest highways," said Col. David Brierton, director of the Florida Highway Patrol. "Not just the lives of the motorists who drive along I-75, but also the men and women of law enforcement and emergency responders, who risk their lives every day to make our highways safer.  If you see anyone on the side of the road, move over for their safety."
During the three day period, which runs from June 27-29, law enforcement agencies in each state will conduct special details on I-75. In addition to focusing on the Move Over law, troopers will be checking for distracted driving, aggressive drivers, speeding, seat belt use, and commercial vehicle safety.  While these focus areas are something the Patrol does every day, the Patrol's partnership with the five states will ensure multi-state travelers see consistent enforcement throughout their trip on the interstate. During the first safety campaign conducted three months ago, the six states reported no fatalities along I-75.
Understanding Florida's Move Over law:
The law protects law enforcement officers, emergency workers and tow truck drivers stopped along roadways while performing their jobs;
It requires motorists to move over when a patrol car, emergency vehicle or tow truck/wrecker is stopped on the side of a road with lights flashing. If such movement cannot be safely accomplished, motorists shall slow down to a speed of 20 mph below the posted speed limit.
Read more on Florida's Move Over Law at https://www.flhsmv.gov/SafetyTips/MoveOverTips.htm.
The Patrol also offers the following tip for safe travels on the roads, whether going a long distance or a short drive:
Buckle up. A seatbelt is your vehicle's most important safety feature;
Obey all speed limits;
Drive sober and alert;
Eliminate driver distractions such as texting, talking on the phone, adjusting the stereo, etc. Anything that can take your eyes off the road, even a second, can lead to a crash.
Get plenty of rest before setting out on a long trip and allow plenty of time to reach your destination;
Take steps before you leave to prepare your vehicle for the trip i.e. checking tire pressure/condition and fluid levels.
The Florida Department of Highway Safety and Motor Vehicles provides highway safety and security through excellence in service, education and enforcement.  The Department is leading the way to asafer Florida through the efficient and professional execution of its core mission: the issuance of driver licenses, vehicle tags and titles and operation of the Florida Highway Patrol.  To learn more about DHSMV and the services offered, visit www.flhsmv.gov, follow us on Twitter @FLHSMV or find us on Facebook.