Operation Safe Drive On I-95
Four state effort to reduce large vehicle crashes
TALLAHASSEE, Fla.  –The Florida Highway Patrol is collaborating with three other states in an effort to keep the roadways safe today throu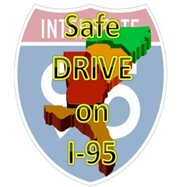 gh June 19.  Four states that line Interstate 95 (Florida, Georgia, South Carolina and North Carolina) will be participating in a safety campaign effort called Operation Safe DRIVE on 95.  By working together, 900 miles of I-95 will be covered under this enforcement action.  Interstate 95 is one of the busiest and most heavily traveled corridors in the United States for commercial motor vehicles.  It also has the highest crash rate within these four states. During the three day period, troopers will be looking for violations by large trucks and cars that could result in a crash such as speeding, following too close, distracted driving and improper lane changes. Troopers will also focus on commercial vehicle hours of service violations to help prevent fatigued driving.
"As we work with our partners in other states, the Patrol continues its commitment to reduce the number of commercial vehicle related crashes," said Col. David Brierton, director of the Florida Highway Patrol.  "Whether you are driving a commercial motor vehicle or a passenger car, we want you to arrive at your destination safely."
The Florida Department of Highway Safety and Motor Vehicles provides highway safety and security through excellence in service, education and enforcement.  The Department is leading the way to asafer Florida through the efficient and professional execution of its core mission: the issuance of driver licenses, vehicle tags and titles and operation of the Florida Highway Patrol.  To learn more about DHSMV and the services offered, visit www.flhsmv.gov or follow us on Twitter @FLHSMV or find us on Facebook.